Cassava Starch Production Line
Product Detail
Production Case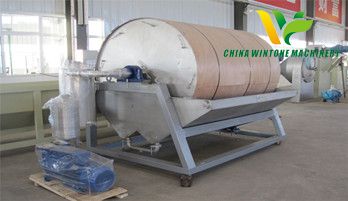 Function of Cassava Starch Production Line :
For dewatering the potatoes, cassava, wheat and modified starch slurry after washing, and filter and separate other food or the suspension of the chemical industry.
Design Features of Cassava Starch Production Line :
Wide stainless steel filter cloth, unique external high-pressure water spray cleaning device, cleaning fast and conveniently, not easy to jam.
The rotary drum adopted frequency-inverter regulation, continuous adjustable speed, and simple structure, easy and stable operation.
Taking the SKF bearings and bearing plates, Nash Elmo vacuum pump and Japan SANKEN transducer to ensure the excellent performance of the complete machine.
Performance Parameters of Cassava Starch Production Line :
Models

Rotary Speed(r.p.m)

Motor Power(kw)

Processing Capacity (ton/h)

Net Weigh(kg)

potato starch

cassava starch

sweet potato starch

Wheat starch

VF16/7.5

0-10

11.2

1.5-2.5

0.7-1.3

0.7-1.3

0.5-1.0

1650

VF16/10

0-10

14.7

3.0-3.5

1.5-1.8

1.5-1.8

1.2-1.5

2060

VF16/16

0-10

18.7

4.0-5.0

2.0-2.5

2.0-2.5

1.5-2.0

2610

VF24/20

0-10

27.2

5.5-6.5

2.8-3.2

2.8-3.2

2.5-3.0

2850

VF24/25

0-10

35.2

7.0-8.0

3.5-4.0

3.5-4.0

3.0-3.5

5170

VF24/32

0-10

42.2

9.0-10

4.5-5.0

4.5-5.0

4.0-4.5

5915
---
Previous:
返回列表
---