Corn Starch Machinery
Product Detail
Production Case
Corn starch machinery equipment adopts excellent automation solutions, maximum reduces labor cost, reduces the cost of production. The professional food art designers and debugging engineer team ensure that the advancement process, not only reduces the energy consumption, while reducing impurity, ash content, gluten star effect on the finished product.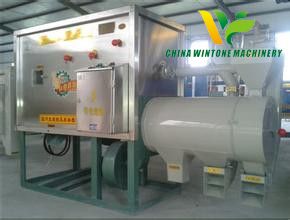 Starch is an important industrial material, and also used for dishes, meat products, beer, gourmet powder, ointment, medicine bone-setting adhesive, starching resource for textile, dying adhesive, internal additives and adhesive for papermaking, ethanol, sands and wheat adhesive for casting, floating minerals inhibitor for metallurgy, ruber products lubricating, sticky soil water-on resource and treat resource for industry waste water.It is more convenient to corn starch machinery makes the extraction of the starch.
Corn starch is widely used in textile, dyeing, printing, packaging and metallurgy, casting and other industries. Corn starch sensory index. All kinds of authentic product yield and product quality has reached or exceed national standards, increase product market competition. Corn starch has been exported to many countries by good quality.
Corn starch is a principal product of processing corn, one of nature's major renewable resources. It is also a key material for the manufacture of corn based biochemical products ranging from corn sweeteners to amino acids. Also corn starch itself is one of the important raw materials for food, paper and textile industries.
Corn starch machinery has advanced technology, well-equipped, strong specificity, layout reasonable, consumption of small, high flour yield and good product quality characteristics.

---
Previous:
Corn Starch Processing Plant
---