Wheat Starch Equipment
Product Detail
Production Case
Wheat starch equipment is widely used in printing and dyeing, papermaking, chemical industries as well as in food industry. Meanwhile, as an important industrial raw material starch can be processed into sugar, ethanol and other fermentable products, good quality.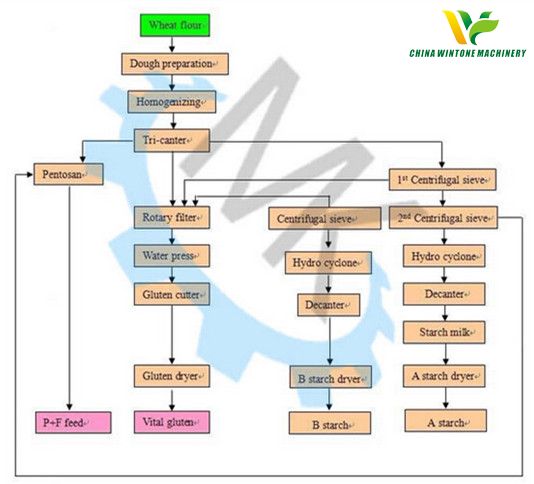 Wheat starch, like corn starch, is a thickening agent used to stabilize food sauces, gravies, puddings, pies and other products. So wheat starch equipment is very important in our life. As a result the same measurement of wheat starch will not provide results exactly like those of corn starch. Wheat starch is produced by removing the proteins from wheat flour, including gluten. Wheat starch made by our wheat starch equipment looks like corn starch, however isn't quite as powerful. Extracted from wheat starch, the past is Wheat series the use of fermentation, about to flood the small Mecca soft ground after the add acid fermentation, so surrounded by cells surrounding the starch granules are dissolved and the starch is easy to separate.

Win Tone wheat starch equipment design incorporates dominant international wheat starch processing technologies with results of research, development and innovation efforts. Its advantages include high cost-effectiveness, reliability, and high degree of automation. These features ensure the maximum wheat starch recovery rate, low power consumption and environmental friendliness.
---
Previous:
Wheat Starch Machinery
Next:
Back to list
---