Cassava Starch Equipment
Product Detail
Production Case
Win Tone Machinery is integrated with development, manufacturing and after-sale service, is equipped with a strong technical strength, advanced mechanical processing equipment including cassava starch equipment and various food machines and production base for the clients to visit, investigate. Our company can design a complete solution according to customers requirement.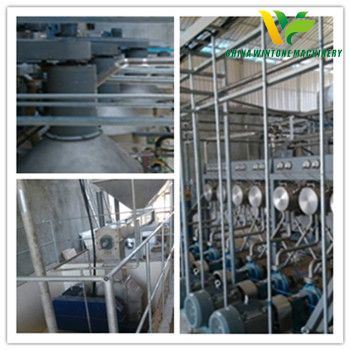 Application Scope and Advantages of Cassava Starch Equipment:
Fresh cassava:Raw material is the base of production, and the raw material quality is directly related to the product quality.
1.Fresh cassava after harvest, the soil, root, and the wood part should be eliminate, stacked on a clean surface, to avoid mixing iron, nails, stone, wood and other debris, required the day of harvest, the same day into the factory, the day of processing to ensure the freshness of raw materials, to improve flour yield and product quality.
2.Cassava into the factory should be done first come first unloading, processing is first come first processing ; Cassava into storage time can't more than 72 hours, pile up height to must not exceed 1 meters, avoid mildew, fermentation. Stacked neatly, avoid required person trample and wheel crushed damageTransport of raw materials.Transport the cassava from the storage spot to the washing machine dumps by cassava picking machine.
Process of flow chart:Cassava starch production process is broken down into gravel extraction, screening, separating, drying four main section; divided into transport, cleaning, gravel extraction, impregnation, screening, bleaching, sand, separation, dehydration, drying, windcold package of 12 control points.

We were fortunate enough to become a major cassava starch equipment supplier for the project, and under the guidance of national cleaner production centers in the original European advanced starch processing technology, based on a lot optimized design, the final process equipment achieved national cleaner production centers on energy saving, emission reduction requirements.

---
Previous:
Cassava Starch Machinery
Next:
Back to list
---