Sweet Potato Starch Equipment
Product Detail
Production Case
Sweet potato starch equipment using local high-quality sweet potato as raw material, after crushing, cleaning, in addition to magnetic processes processing. Sweet Potato Starch consists of large oval spherical granules, ranging between ranging between 5 to 100 micro meters. It is refined starch, which consists of minimal amount of fat or protein. Further, this gives the powder a clear white color. In addition, to the cooked starch typical characteristics like good clarity, high binding strength, long texture, neutral taste, and a minimal tendency of yellowing or foaming of the solution.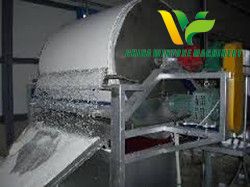 Sweet Potato Starch Equipment Features: The whole machine adopts horizontal structure, the main flow passage components of 304 stainless steel, using high-precision transmission parts, equipped with the SK-type vacuum pump produced by our company, rotating smooth at work, operation continuous and convenient, good sealing effect, high-efficiency dehydration, is an ideal starch dewatering equipment in the domestic starch industry.
Sweet Potato Starch Equipment production process: Using local high-quality sweet potatoes as raw material, after grinding, cleaning, in addition to magnetic, screening processes processing. Without any additives. It is a pure natural green product.Sweet potato starch ranks at the top among the 20 anti-cancer foods, as studied by the Centre for Cancer Research in Japan. Sweet potato flour can be served as food as well as feedstuffs.

---
Previous:
Sweet Potato Starch Machinery
Next:
Back to list
---