Cassava Starch Machinery
Product Detail
Production Case
Cassava starch machinery is produced by Win Tone. It has a great contribution to agriculture.Cassava is conveyed to the cassava yard after weighing by wagon balance, and then is conveyed into the cassava storage hopper by forklift.
Our native Tapioca Starch, made by use of the most advanced technology and machinery in the world, is snow white and of high viscosity. We do not put any chemicals or additives in our starch and this enables it to be ideal natural green food.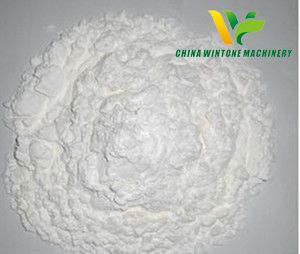 1. Raw material receiving unit:
Material receiving unit is the first link of cassava starch processing. The primary purpose of this unit is the cassava preliminary removing impurity and the smooth storing in inside of raw material storage tank.
The key of this unit is to remove sand and other impurities of cassava during the harvest, the sand stick to the cassava can drop through the vibrating screen. Preliminary de-sanding and removing impurity can relieve machine burden of de-stoning and cleaning unit.
2. Raw material conveying unit:
Cassava stored in the cassava hopper is conveyed to the large inclination-angle belt conveyor through conveying belt at the bottom of the hopper, and further is conveyed into cleaner to remove impurities by the large inclination-angle belt conveyor, removing sand and other impurities mixed in the materials at harvest time. This is about our cassava starch machinery.

Our products fully comply with cameroon national standard for food and is widely used in food industry, medicine, textile, chemical and paper making industries. It can meet the needs and requirements from different levels and industries. Attention must be taken that cassava should not be damaged in cassava purchase. Damaged cassava is easily decayed, and decayed cassava is vulnerable to infect around cassava. Bad cassava material has a big influence to starch quality. So cassava starch machinery are not allowed to appear bad cassava.
---
Previous:
Cassava Starch Processing Plant
---