Vibrating Fluid Bed Dryer
Product Detail
Production Case
Win Tone vibrating fluid bed dryer is fully automatic, especially suitable for sugar or sugar alcohols crystal and other crystal drying.The units contains cylindrical fixed fluidized bed dryer, square vibration fluidized bed dryer and square sieve. The square of vibration fluidized bed dryer is divided into dry type and cool type.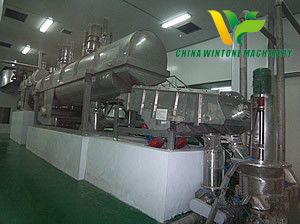 The working principle of this unit: crystal depends on gravity, falls into a cylindrical fixed fluidized bed drier, and blows into the boiling state by the hot-wind from bottom. Crystal fully contacts hot-wind, and moisture rapidly evaporates. After fixed fluidized bed dryer predrying, crystal falls into the automatic control air valve and then is sent to the square of vibration fluidized bed dryer.

  The crystal drying period trough square vibration fluidized bed dryer contacts the hot wind in boiling state again to dry thoroughly. And then through the cooling period, by contacting the cold wind in boiling state, crystal cooling will be automatically sent to the square sieve, by screening to remove large particles.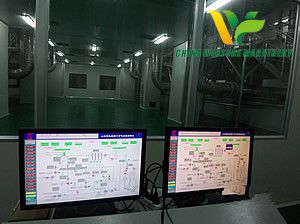 The characteristics of the unit: the whole drying process is divided into predrying and final drying. In the crystal drying process, it is more difficult to further remove water. Pre-drying and final drying is completed within two fluidized bed driers. This can not only make crystal get maximum drying, but can also improve the efficiency of drying, save the energy consumption of the hot air. Crystal's low moisture after drying is conducive to improve product quality and extend the storage period. Crystal with low moisture and fully cooling after drying also helps to avoid the agglomerate in the products in storage process.

---
Previous:
Precoating Vacuum Drums Filter
Next:
Back to list
---